May is almost over, and with each passing second, my anxiety builds up. I don't know what on earth pushed me to sign up for Me Made June. Are sewing challenges always this stressful? I have a couple of dresses, 1 skirt and 2 tops. Which by all accounts is clearly not enough for 31 days. So, I'm having to cut corners by
1) sewing the easiest projects I can find.
2) trying out all time saving tips with my projects.
I'm currently making 3 simple tops at the same time, so I'm calling them my assembly line tops. I'm using the New Look pattern I used last time for my 1 hour top experiment. Yesterday I cut all three at the same time. Magic?.....NO. I layered them, and pinned the pattern at the top, and cut them with my rotary cutter in order to avoid shaky scissors manipulations.
Place folded fabric on top of each other and pin pattern in place
Using a rotary cutter and cutting mat, cut out pattern pieces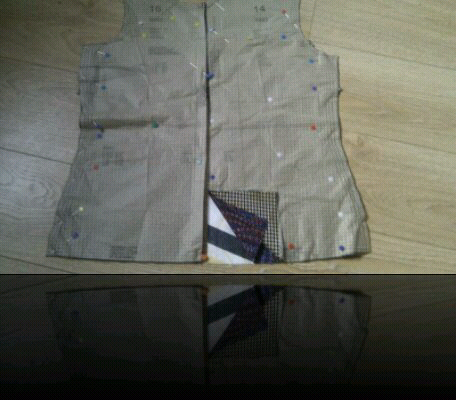 Done!
My phone is acting up hence the shaded bit at the bottom.

Today after work I plan on sewing them. Fingers crossed I finish them tonight.
Does anyone have any time saving tips for me please?