The internet is not a good place I tell you. It is full of tempting things to render you even poorer than you already are....if you are as broke as I am that is. There I was today trying to find more fitting techniques for my Vogue dress, and I fell across a new Craftsy course. This time, it is a
Pant fitting class
. Hmm!!
I am really tempted to buy this one. For us in the UK, it costs £31. I don't have that kind of money now, so I shall contend myself with printed matter for now until I can spare that money.
This class comes with Vogue pattern 2948. Looking good. Where is my card.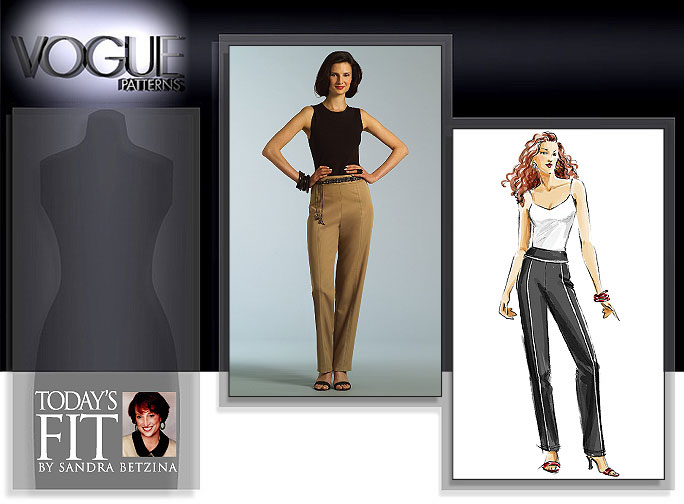 I have just copied and pasted what is on the course page, just so you read it without going there, if you don't want to be tempted.
What You'll Learn
How to identify the features of a good fit, and the key adjustments to achieve it
Fitting at the waist, hips and tummy; solutions for skinny legs, large thighs, flat backsides, big stomachs ... just about any fit issue
Transfer changes from paper pattern to muslin and back again
Comprehensive alteration strategies for any body type and size
How to spot and correct grain-line issues
How to stabilize, preserve and store your custom pattern to use again and again!
Oh boy! I just found my card. Not a good sign.
The description goes on to say
What You'll Make
A custom-fit version of Vogue 2948, a princess-seamed trouser pattern designed by Sandra Betzina for the Today's Fit line, and sized up to a 57" hip
Note: This is a comprehensive fitting class; it doesn't teach you how to make the pants themselves. Want to learn? Stay tuned for the companion class, Pant Construction Techniques, coming soon on Craftsy!
HELP!!!
I just bought the class. Drat!
UPDATE:
I forgot to mention that if you receive the craftsy newsletter, the last one had a 20% discount link for this course. So for us in the UK, it comes to £24 I think. Or is it £25? One of them.